Earlier last month I learned that it was Plastic Free July.
"Plastic Free July aims to raise awareness of the problems and amount of single-use disposable plastic in our lives and challenges people to do something about it."
Growing up in Vancouver, sustainability has always been an important lens through which I see everyday life so I thought that it was an excellent challenge. The more I did research and reflected, the more I learned and became conscious of my usage of single-use plastic and how often I might have sent these on a one-way trip to the landfill. (Yikes!) I will spare you the sad photos of plastic hurting baby marine life. Browse the PFJ website to learn more about the impact of single-use plastic and for neat tricks to find alternatives.
I signed up for the challenge and learned how hard it was to avoid single-use plastic.
Here are a few examples:
Plastic packaging from buying anything!!! (Like sponges, paper towel, dried food, etc.)
Buying beverages to-go (plastic cup, lid, AND straw that go in the rubbish bin right after you're done)
Garbage bags (It's really weird how we buy fresh bags to then chuck down the shoot? The PFJ folks suggested lining your trash can with newspaper instead)
Plastic bags (I tried to always have a bag big enough to hold extra things in case I picked up something, or if I could just hold it in my arms, I did!)
FOOD, pretty much everything food comes in plastic. Cereal, meat, milk, etc.
Solutions I learned were to bring your own reusable container with you, ask for no straw at a restaurant (which I often forgot to), keep a reusable bag handy, and to buy things in bulk. And for fellow Starbucks fans, did you know it's actually possible to bring in a mason jar and you save 10 cents?
While I was disappointed that I could not entirely avoid single-use plastic (and I learned just how hard it was), I was happy that participating in the challenge made me more aware of how often I used single-use plastic. Before, I did not understand the extent to which my Starbucks frappucino cup or the thin plastic to-go container my Chinese food came in would have an environmental impact. Think about it, what is the impact of our lifestyle based off of convenience?
Most importantly, from now on I will continue to do my best to avoid single-use disposable plastic products (you also save money by reducing, re-using, and packing your own food/drinks!). And of course recycle!
Otherwise, the recycling monster will get you.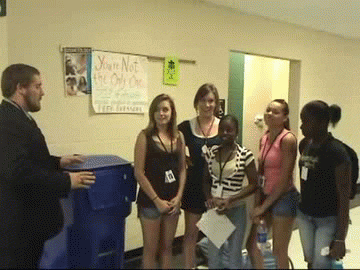 Do you try to avoid single-use plastic? If you have any tips to share, please do!